OMPT Equipment Kits
OMPT works with trainers and educators in the world's most disadvantaged countries to identify specific constraints in delivering their behavior-change communications.
Our equipment kits are designed to address common development challenges such as illiteracy and lack of internet or electricity.
OMPT's proprietary equipment kits are easy to use, portable and powered through solar energy or scooter battery. As the second component of our three-part intervention, OMPT provides camera, projector and recharge kits designed to meet the needs of each organization and location.
All of our equipment is vetted by Videomaker.com, a renowned audiovisual company with over 30 years of industry excellence. We constantly review and research our products to ensure we are offering the highest quality equipment that will last for years with the proper care.
Each kit contains everything needed to create and disseminate video and recharge the equipment. Every cable, adapter, and connector is accounted for, ensuring our partners will not have to search for extra parts or additional pieces. Our kits are designed to work together for a seamless, effortless experience that allows the user to focus on what's most important: the behavior change communication and curriculum.
Camera Kit - For Creating Video
A single video camera can record thousands of stories, and we believe that a quality image is crucial for engagement and communication. Our camera kits include a video camera, tripod, lapel microphone, and SD cards for storage. The cameras themselves are easy-to-use, intuitive, durable and easily transportable.They can also be programmed to almost any language.
Projector Kit - For Showing Videos
Our projector kits include a handheld mobile projector, a tripod, a speaker and all the other equipment necessary to easily show a video in rural communities.
Small and handheld yet capable of serving an audience of up to 50 attendees, our projectors have a battery life of up to two hours. Like everything else in our kits, they are easily transportable and built for use in rural or remote locations.
Charging Kit - For Recharging Equipment
Our recharge kits are vital in bringing video communication to rural communities. Included in this kit are: solar panels and cables that allow the camera, projector, and speakers to be recharged via sun, motorscooter, or automobile. This kit allows staff to charge and use the equipment in the field whether they have access to electricity or not, enabling our partners to reach communities that may lack modern infrastructure but desperately require the intervention our partners provide.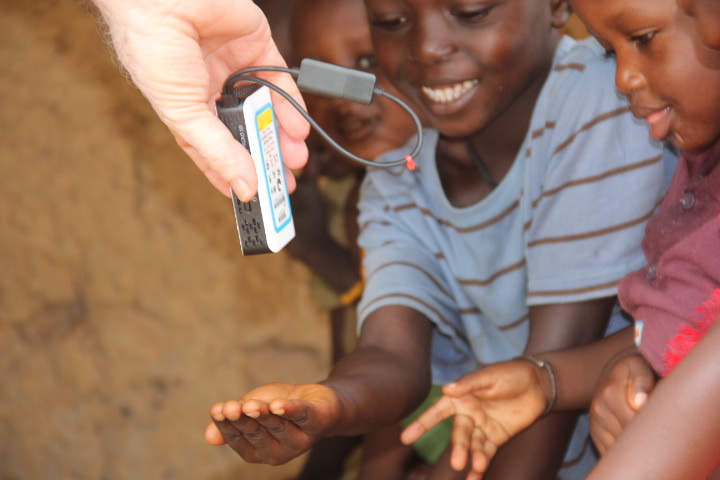 OMPT Equipment in Use
Many OMPT Equipment Kits have been deployed in some of the poorest communities in the world to make a difference. Have a look at our Projects for more pictures and further insight into what we do!